There's a lot that goes into travel planning. Finding flights and hotels, packing, online check-in, figuring out how to get to and from the airport… Thankfully, we created a tool that keeps everything organized for you so you can focus on the important things — like snorkeling with sea turtles and eating your weight in poke. KAYAK Trips makes sure you have all your travel plans in one place, so that you can feel confident in the journey ahead.
Oh, and did we mention that unlike those other itinerary apps, it's totally free?
Here's how to get organized with Trips:
1) Automatically import all your travel plans.
So, you're going on a trip. You've booked a flight, hotel or vacation home, maybe a rental car, oh and a few restaurants, some tours and activities, maybe even a spa appointment… how are you going to organize it all?
With Trips Email Sync, you simply connect your Gmail or Outlook to Trips (or forward your travel confirmation emails to trips@kayak.com) and KAYAK will automatically import any travel bookings for your upcoming travels. To set it up, sign into KAYAK, go to Trips and click "Enable Email Sync." We'll walk you through the rest.
Don't want to sync up your email? We get it. Just forward any confirmations you receive to trips@kayak.com and it will be added to your trip. (PS This email forwarding also works for confirmations beyond flights, hotels and rental cars — like restaurant reservations, tour confirmations and more.)
2) Use Trips to keep track of flights, hotels and rental cars.
Your relationship with Trips can begin even before you have anything booked. Because we know the best vacations come out of daydreams.
While you search, every flight, hotel or rental car you save for later on KAYAK gets added to a trip. Meaning you can check back any time to see how prices are faring on the options you're interested in.
3) Access from any device – Even while offline.
With the KAYAK App, you can access all your trips in one place, with hotels, flights, even restaurant confirmations, all sorted by time. Trips also works in offline mode, in case your phone doesn't have data or WiFi wherever you're going.
And, get this: you're being environmentally friendly. Because you're no longer printing out stacks of confirmations.
4) Share travel plans with friends and family.
Easily share your vacation plans with friends and family by adding their email addresses to your profile. You can give them viewing or editing access to all your trips — or to just one. Add by email or phone number to send updates when your itinerary changes.
That way, your nearest and dearest can receive flight status updates, hotel information and more. So they can keep track of things while you're out of town. Plus, if you're planning a group trip, this is a great way to get your friends to give input on the things they want to do and see, add in hotel or flight details, and more. So everyone stays on the same page.
5) Receive up-to-date status on your flights.
With Trips, once your flight is booked you can stop worrying over minute details. Gate changes, flight delays, check-in reminders — you'll get notifications for all of these. You can elect to receive updates via email, SMS or Facebook messenger (or all 3 if that's your thing).
6) Use assisted check-in for your flight
It's the 21st century, so of course you're checking in online. But even still — remembering or typing in an awkward confirmation number (or having to install an app for each individual airline. Like your phone needs that right now) can be frustrating. Instead, you can "Check in with KAYAK" directly through our app. In one seamless experience, we'll remind you when check-in opens and send you to your airline's mobile site, fill in your information for you based on your reservation, and start the check-in flow. That way all you have to worry about is choosing the best seat in the cabin.
7) Carry your boarding pass with you, wherever you go.
Whether or not you use Trips' assisted check-in, as soon as your digital boarding pass is issued, you can email it to trips@kayak.com to add it to your Trip (or, automatically import it because you've signed up for Trips Email Sync). That way, you'll have access to the pass from your phone inside the KAYAK app whenever you need it.
8) Flight delayed? Get paid.
We've teamed up with Service to help you get the money you deserve when your travel plans don't pan out. With Trips, you'll be able to start the reimbursement process immediately if your trip is eligible.
9) Show off your stats.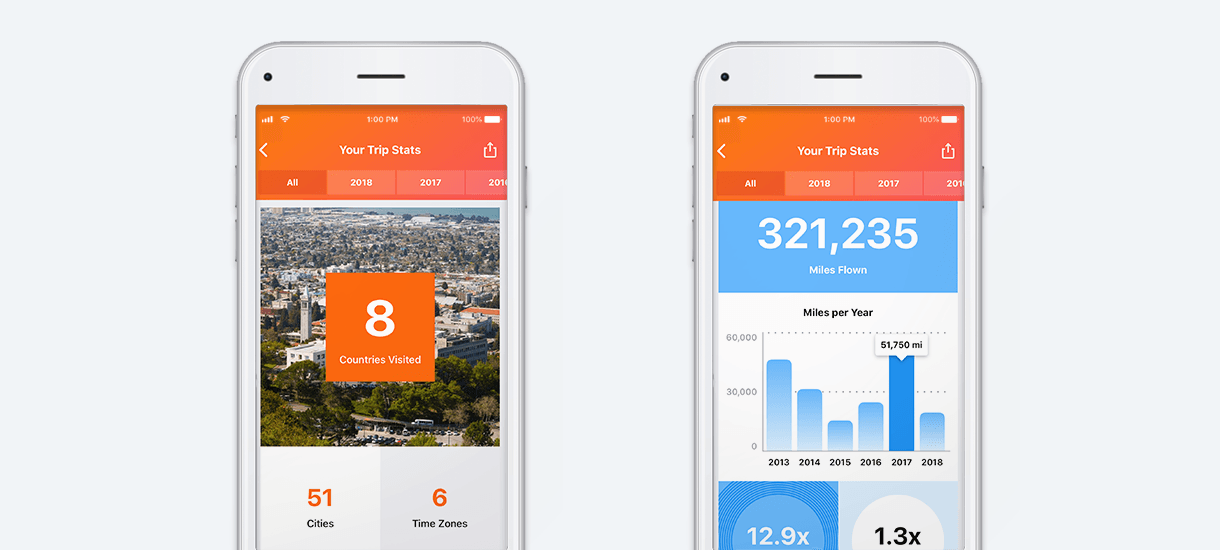 Earn bragging rights. With each new Trip, we'll update your "Trip Stats," so you can keep track of things like how many countries you've visited, how far you've traveled, how many nights you've spent away from home and more. Share your stats with friends and followers, or enjoy a little personal ego boost.
10) Driving directions, Siri shortcuts and more.
Like the bonus tracks on an album, Trips comes with some other cool features. Say you've rented a car in another city and need to figure out how to get to the hotel. Simply click the "Get directions" link in your Trips and it'll navigate you there. Or if you're in a country where you don't speak the language and hop in a taxi, you can select "Show driver" for an enlarged view of the address.
So, what are you waiting for? Download the KAYAK app to confidently plan and manage your next trip.