Beer, brats and bar songs. Who could ask for more? Since 1810, Munich's Oktoberfest, Germany's 3-week cultural celebration that attracts around 5.6 million people, has been a big draw for travelers. And every year, there seems to be more to celebrate. We found that KAYAK flight searches to Munich have spiked over 16% for Oktoberfest this year vs. last. But it's not just the lederhosen that's tempting travelers – we found that European destinations in general are hot (and affordable). Making now as good a time as any to head across the pond and prost.
The challenge of Oktoberfest, however, is figuring out where to sit. With tents filled to the brim with party-goers, snagging a seat can take some gymnastics if you didn't get there early – especially if you're traveling with family. Until now. Our friends at OpenTable have made it possible to reserve your place in an Oktoberfest tent directly on their site. These tents are available around lunchtime and attract a local crowd, making them great places to learn about Oktoberfest culture with the family. And reserving a tent ahead of time is always a good idea. That way, you're spending less time casing the tents and more time enjoying the festivities. Which is what Oktoberfest is all about.
Here's how to confidently plan your next Oktoberfest in Munich.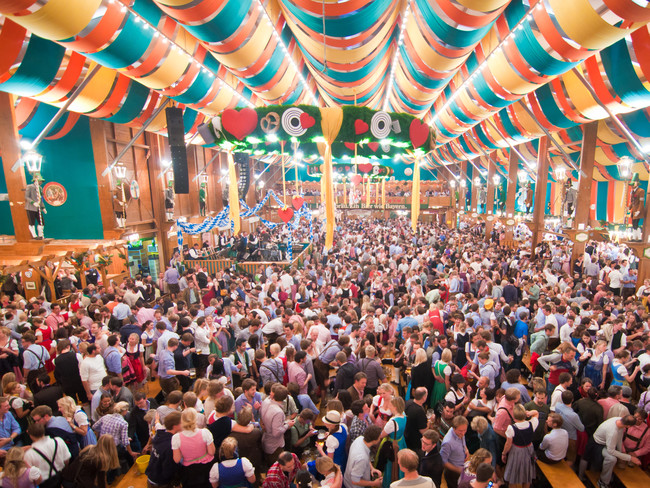 When to Go
Oktoberfest is almost always from late-September into early-October. This year, it runs from September 21 to October 6. Travelers who are headed to Munich during those dates surprisingly saw lower airfare (median $761) than if there were traveling in the weeks before the event (median $810). Munich hotel prices are also lower comparatively during Oktoberfest (median $138/night vs $196/night before Oktoberfest and $267/night after it ends). So really, you have no excuse at this point.
Flights to Munich from $290Accommodations from $19
What to Eat
Every Oktoberfest smorgasbord has the basics: sausages, schnitzel and salty pretzels. But there are many other delicacies you can sample. To help figure out what to order, OpenTable rounds up some of the best meals in the tents, from traditional dishes to vegan-friendly ones.
Where to Drink
Wondering which tent to reserve? Oktoberfest tents (or beer halls) may seem the same but each has its own unique vibe. Münchner Knödelei is one of the smaller tents, at just 800 seats (for comparison, larger tents like Schottenhamel have nearly 10,000 seats). With a family-friendly atmosphere, it's a great tent to consider if you plan on bringing the kids. For travelers trying to fool themselves into thinking Oktoberfest can be done the "healthy way," well, that might not be so foolish. The tent at Fisch-Bäda Wiesnstadl serves up organic, gluten-free and vegan-friendly dishes so that you can join in the celebration, no matter your dietary restrictions. And if you want to raise a glass to history, the Heinz Wurst- und Hühnerbraterei tent has been part of the Oktoberfest tradition for over 100 years. See the other Oktoberfest tents you can book.
Whether you're looking for the right Oktoberfest tent or the right flight, we can get you the information you need to make confident travel decisions.